Unlocking the Cybersecurity Vault: The Future of Online Fraud Prevention
Watch Israel Mazin and Shira Rubinoff break down merging threats in online fraud, offering prevention and real-time detection strategies.
Shira Rubinoff
Cybersecurity executive, Advisor & author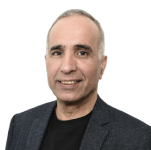 Israel Mazin
CEO,
Co-Founder
In an age where digital transactions are a staple of daily life, emerging forms of online fraud are constantly evolving, posing new threats to personal and organizational security. Memcyco's CEO, Israel Mazin, and tech influencer, Shira Rubinoff, present an insightful dialogue exploring the frontiers of fraud prevention and the sophisticated strategies needed to combat them.
Emerging Threats: Beyond the Surface-Level Scam
Dive deep with Israel Mazin as he identifies emerging threats in the cyber fraud arena, including the insidious "charge only one penny" fraud that could herald the next wave of digital deception.
The Synchronized Defense: Fraud Teams and Cybersecurity Unite
Discover the integrated world of fraud teams and cybersecurity — Israel elaborates on the dynamic synergy in fusion centers where combined efforts are fortifying enterprises against cyber threats.
Risk Engines: The Achilles' Heel of Fraud Prevention
Explore the critical weaknesses of current risk engines as Israel discusses the impact of false positives and negatives
Dive into a detailed discussion on the latest trends in online fraud
Stay one step ahead in the battle against cyber threats. Equip yourself with the knowledge and tools necessary to safeguard your digital footprint in a world where online security is non-negotiable.
Emerging forms of online fraud and prevention strategies
Emerging forms of online fraud, including transferring money from user to user and scams involving small, frequent amounts.
Preventing fraud in real-time using AI and device authentication
Real-time fraud detection and prevention are critical for banks and other organizations.
Real-time fraud detection and cybersecurity
Risk engines struggle with false positives and real-time data, leading to missed scams. The importance of real-time reporting in fraud detection
Online fraud prevention and risk engines
How hackers use social engineering and fake sites to steal login credentials and multi-factor authentication codes, bypassing traditional security measures.